The Dice System
Monster Dice
The monster dice is how you determine what monsters you run into. You may only encounter one monster per post in a normal topic. It is recommended that you only battle one monster at a time, but you may go for more if you wish. There are three different levels of monsters: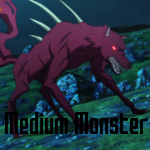 Just as the names of the monsters suggests, each monster has a different level of difficulty. The easier the monster is, the better chance you have of rolling it.
Drops Dice
When you have successfully beaten a monster, you will have the chance to roll the drops dice to see which materials the monster dropped. No matter the outcome, you will always earn experience. Whatever number is in between (or on) the numbers listed for the drops, you will earn it. So even if you land on a 55 and both, material x, and material y have 55 for a possible number, then you would still get both of those drops.
Fishing Dice
When you fish, you must fish at a lake. For determining your level of fish, you must roll the monster dice. However, you do not fight a fish. You catch it. This is when you roll the fishing dice. You either succeed in catching the fish, or fail at it. Here are the pictures of the different sides of the dice: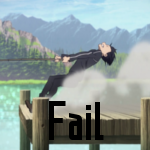 NOTE:
You must have some kind of fishing rod in order to fish!
Crafting Dice
This is the universal dice for
everything
crafting. If you're a blacksmith, then you use this dice. If you're an alchemist, you use this dice. It's even used for cooking! This determines if you are successful or not when crafting whatever is listed on your recipe. These are the faces of the crafting dice: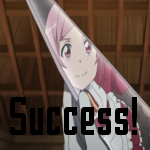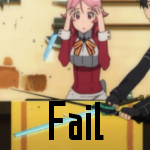 Steps to Craft:
Select your recipe (those will be revealed as you add skill points to your crafting skills)

Make sure you have all the materials listed in the recipe

Make a topic were you are crafting an item (You will tag it with [Crafting]. You may craft more then one item in a topic)

Once successfully crafted, post a link of the topic you crafted the item in, in the recipe's topic. If done correctly, it will be approved and the item will be placed in your inventory.
Death Dice
To make up for your character not dying forever when they are killed, we make up for it by the loss of either Col or items. There are 3 possibilities that happens to you when you die. You either loose 25% of your Col, 50% of your Col, or 1 item of your choice. These are shown by these faces of the dice: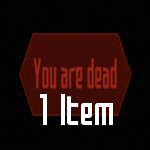 Last edited by Kerii on Tue Oct 13, 2015 3:48 pm; edited 3 times in total
Floors
On Sword Art Online Recoded, there are a total of 100 floors, just like in the original game. They look the exact same as the original game, geography wise. However, they do contain different monsters though. There are at least 3 different kinds of monsters on each floor. They each look different and have different abilities. On each floor, there are sticky threads listing each different kind of monster and its abilities.

To pass a floor, you must defeat the floor boss. Once you have defeated the floor's boss, you can access the next floor up whenever you feel like it. In addition, defeating these bosses may give you the chance for a rare drop.

Those sub-categories you see in floors that are labeled as towns are called "safe zones," meaning thag you can't be killed or injured in the town. This goes for fighting monsters too. If you wish to engage in combat in any way, shape, or form, the topic must either be in a sub-category that's not one of the towns, or straight in the "Floor #" category. If a staff member finds you posting combat in a safe zone, they have every right to move it.
Last edited by Kerii on Tue Oct 13, 2015 9:01 pm; edited 1 time in total
Colors
Towns/Safe Zones #ff9900
Materials #00ff00
Item #00ccff
Food #663300
NPC #ffff00
Boss #ff0000
Legendary #0000ff
Immortal Object #cc00ff
Hate
Hate is essentially the "anger" you generate as a player through various skills. The more hate, or "anger" you generate, the more damage you can do through that "anger." The conversion from hate to damage is simple. 2 hate equates to 1 damage point. Hate is also known to lure in dangerous NPC's and/or monsters. Although this isn't proven to be true in the game's coding, you may RP that way if you please.
Quests
Want some extra exp and Col? Fear not, we have a way for you to earn some! They're called "Quests." There are certain, special quests  that can give you things other then just exp and Col. Can players make quests? Yes. Can they make quests with those extra rewards? No. They must go by the basic reward. You may take the same quest once every month.

Quest System:


Choose your quest

Post in the quest topic saying that you would like to take it

Wait for approval for you to take it by a staff member

Once approved, you may make a topic in the corresponding location that the quest topic lists. This is where you will complete your quest.

Once finished with the quest in the topic, reply in the original quest's topic with a link to the RP thread with the quest completed, meeting all the requirements. Wait for staff to approve of this before rewarding yourself.

Once staff rewards you for completing the quest, you are now able to reward yourself exp from the correct "Quest Rewards" topic located in a sub-category of the character sheets.

Quest RewardsExperience:
Quest Level * 5
Col:
Quest Level * 50
Word Counts:
(Quest Level * 20)+250
Beginner Quests:
Levels 1-25
Intermediate Quests:
Levels 25-50
Advanced Quests:
Levels 50-75
Legendary Quests:
Levels 75-100
When doing a quest, you
DO NOT
roll the monster dice unless the quest specifies. You
WILL NOT
roll the drops dice once you beat a monster from a quest.
Last edited by Kerii on Sun Oct 11, 2015 6:26 pm; edited 2 times in total
Guilds
In SAO: Recoded, there are many guilds that you can join. You are able to start a guild at any given time, so long as you already have 5 members who wants to be part of your guild and 5,000 Col for your guild charter. To join a guild, you must be invited into the guild by the guild master and join through an RP topic. You may leave a guild through an RP topic with the guild master as well. Basically almost anything you want to do that effects you and the guild majorly, you would have to take up with the guild master. If the guild master is inactive, there will be a newly appointed one until the guild master comes back.
Last edited by Kerii on Fri Oct 16, 2015 1:59 pm; edited 1 time in total
Grades
There are different grades, or levels, of various things, most commonly items. These grades are marked with both numbers and are given titles. The numbers are most commonly used. There are 11 different grades. The lower the grade, the lower the power or quality of the entity. 0 is the lowest while 10 is the highest. Here is a list of the grades and their titles:


0 - Nihility

1 - Novice

2 - Apprentice

3 - Initiate

4 - Novitiate

5 - Median

6 - Advanced

7 - Adept

8 - Ace

9 - Expert

10 - Master

Bosses
As stated before, you must defeat the boss in order to pass the floor and go onto the next floor up. To take on the floor bosses, you will have to take on the quest. You will notice that boss quests are particularly harder then other quests of that level. This is why it is recommended to take boss quests in teams.

Unlike other quests, boss quests are Mod+ controlled, meaning that a mod or above must role-play as the boss. Again, unlike most quests, these quests requires you to roll the drops dice. However, this only applies if you gave the final blow to the boss. Delivering the final blow to a boss would give you the chance to get different kinds of rewards ranging from more Col to an item.
Combat


Hits - You're originally allowed 1 hit per post with your weapon. However, that can be increased by either a skill or by your speed. While not using a skill, if you have double the speed of your opponent, then you're capable of hitting twice in one post. If your speed is triple the speed of your opponent, then you're capable of hitting three times in one post. If you're quadruple the speed of your opponent, then you're capable of hitting four times in one post, etc. This applies for all opponents, NPCs, monsters, and players. The speed must be x times faster in both weapon speed and movement speed.


Martial Arts - Martial Arts applies to the hits rule. You can deal more then one Martial Arts attack in a post, but it will follow the hit rules, so only a specific number of the physical attacks will count.


Multiple Attackers - When multiple people are attacking a monster, you divide the experience earned evenly to each character who defeated or helped to defeat the monster. You may choose how you divide it though. You may even give all the experience to one person if you like. Everyone rolls the drops dice. Nothing else is split from your drops. Only the experience.

(More rules will be revealed)


Similar topics
---
Permissions in this forum:
You
cannot
reply to topics in this forum